Load shackle custom bundle
In stock
SKU
LOAD SHACKLE CUSTOM BUNDLE
From £1,775.00
To £6,286.00
Scotload load shackles are available online as individual products in capacities from 8.5 Tonne to 200 Tonne. For anything over 200 Tonne please make an enquiry.
Please use the drop-down menu below to create your custom load shackle bundle.
Please note: The USB base station dongles supplied with our bundles are currently out of stock on back order and will be shipped separately when stock levels are replenished.
Designed to be ideal for lifting and weighing application where there is limited headroom, Scotload's load shackles utilise wireless load monitoring pins mounted inside GN shackle bodies to offer a low-headroom weighing solution.
 
All of our SmartLoad® load shackle bundles come with Scotload's innovative SmartLoad® technology, allowing operators to access accurate, reliable load data on any SmartLoad® handset, wall-mounted display or on a Windows computer using the free-of-charge SmartLoad® base station wireless USB dongle.
 
The SmartLoad® load shackle bundles are available for capacities from 8.5T up to 1000T (up to 200t via our new e-commerce store) with a range of options available.
 
All of our SmartLoad® shackles come with a calibration certificate, one year's manufacturer warranty, user manual and batteries to provide you with everything you need to start your operations right out of the box.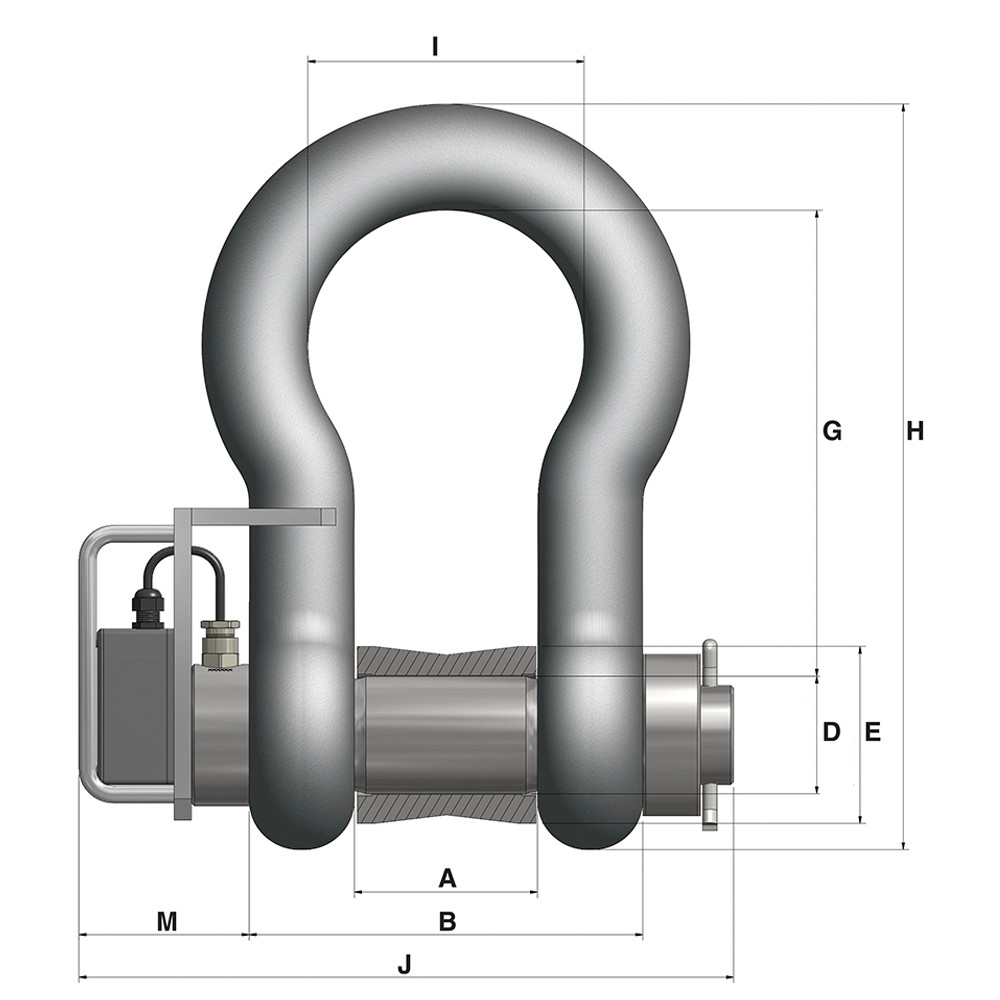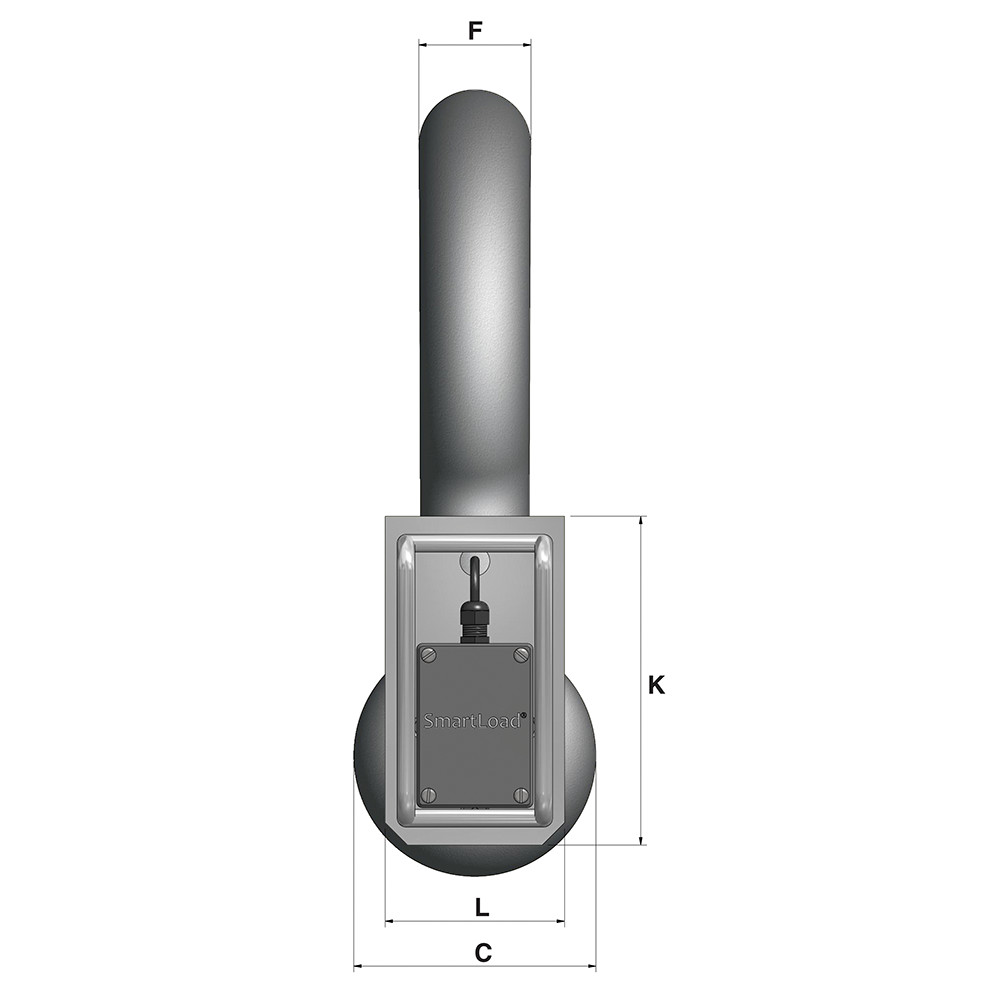 | Product Codes | Load rating (tonnes) | Weight bow (kg) | Weight D (kg) | A mm | B mm | C mm | D mm | E mm | F mm |
| --- | --- | --- | --- | --- | --- | --- | --- | --- | --- |
| 9660 | 8.5 | 2.6 | 2.5 | 43 | 93 | 59 | 28 | 44 | 25 |
| 9661 | 12 | 4.9 | 4.5 | 51 | 115 | 72 | 35 | 50 | 32 |
| 9662 | 17 | 8.2 | 7.6 | 60 | 136 | 88 | 42 | 63 | 38 |
| 9663 | 25 | 14.2 | 12.9 | 74 | 164 | 103 | 50 | 88 | 45 |
| 9664 | 35 | 19.9 | 17.4 | 83 | 183 | 111 | 57 | 88 | 50 |
| 9665 | 55 | 39.6 | 35.3 | 105 | 235 | 145 | 70 | 114 | 65 |
| 9666 | 85 | 62 | 53 | 127 | 273 | 162 | 83 | 125 | 75 |
| 9667 | 120 | 110 | N/A | 150 | 328 | 200 | 95 | 152 | 89 |
| 9668 | 150 | 160 | N/A | 170 | 374 | 230 | 108 | 165 | 102 |
| 9669 | 200 | 235 | N/A | 180 | 420 | 260 | 140 | 190 | 120 |
| Product Codes | G mm (B) | G mm (D) | H mm (B) | H mm (D) | I mm (B) | J mm | K mm | L mm | M mm |
| --- | --- | --- | --- | --- | --- | --- | --- | --- | --- |
| 9660 | 95 | 85 | 164 | 154 | 68 | 224 | 200 | 100 | 119 |
| 9661 | 115 | 94 | 201 | 180 | 83 | 274 | 200 | 100 | 119 |
| 9662 | 146 | 127 | 249 | 230 | 99 | 304 | 200 | 100 | 119 |
| 9663 | 178 | 149 | 300 | 271 | 126 | 338 | 200 | 100 | 119 |
| 9664 | 197 | 171 | 331 | 305 | 138 | 361 | 200 | 100 | 121 |
| 9665 | 260 | 203 | 433 | 376 | 180 | 410 | 210 | 110 | 118 |
| 9666 | 329 | 339 | 527 | 427 | 190 | 454 | 220 | 120 | 118 |
| 9667 | 380 | N/A | 617 | N/A | 238 | 482 | N/A | N/A | 92 |
| 9668 | 400 | N/A | 671 | N/A | 275 | 535 | N/A | N/A | 92 |
| 9669 | 500 | N/A | 813 | N/A | 290 | 615 | 176 | 80 | 115 |